Wrexham AFC and HP Team Up: HP to Become Club's Global Technology Partner
Rob McElhenney and Ryan Reynolds announce collaboration – covering stadium tech, community projects and shirt sleeve sponsorship
WREXHAM, WALES, July 11, 2023 – Wrexham AFC today unveiled global technology leader, HP Inc., as the club's latest signing. HP will be the club's global technology partner, delivering devices and services to help the recently-promoted Welsh football team succeed on and off the pitch.
The club announced the news with a video featuring Co-Chairmen Rob McElhenney and Ryan Reynolds. In the clip, Rob and Ryan reveal their attempt at a promotional video to explain their tech vision for Wrexham. You can watch on YouTube here.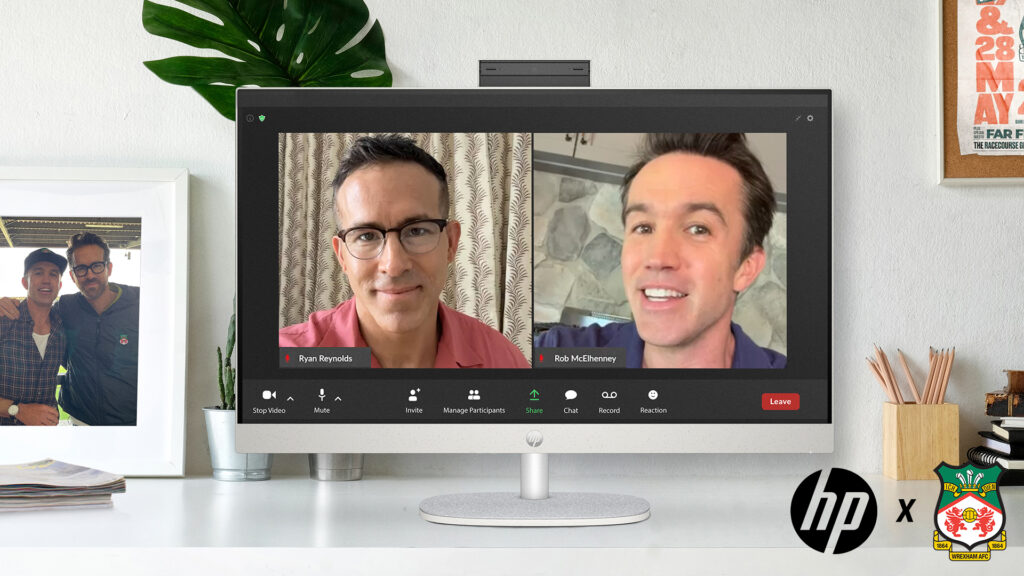 "HP was born in a garage in 1939 and has become one of the leading technology brands in the world. Wrexham Association Football Club was born in a bar in 1864 and is on its way to great things," said Wrexham AFC Co-Chairmen Rob McElhenney and Ryan Reynolds. "We could not think of a better partner on this ride, for the club and the community. Plus, our tech game really needs an upgrade. Pretty sure we still have flying toasters as screensavers on some of our computers."
HP technology – including high-performance laptops, PC accessories and hybrid work-enabling services – will be used throughout the club and across back-office functions, as well as to improve the fan experience.
"As with football, technology has the power to connect and unite people all over the world," commented Vikrant Batra, HP's Global Chief Marketing Officer. "The passion of Wrexham's fans to rally around their beloved football team, throughout the highs and lows, has been an inspiration to us at HP. We're excited to bring the power of our technology to the club and broader community, supporting them to achieve their goals."
In addition to providing the innovative technology to power the next chapter of Wrexham's incredible story, HP aims to go beyond the pitch and have a meaningful impact in the local community. This aligns with HP's mission to become the world's most sustainable and just technology company – by accelerating digital equity, advancing human rights, and driving climate action.
Wrexham AFC Executive Director, Humphrey Ker, said, "We are delighted to partner with HP – their expertise will be of great benefit to Wrexham and is exactly what the club needs to continue its growth as we return to the Football League. As part of the stadium redevelopment project, we have prioritised the use of technology to create the best fan experience. HP's tech and know-how will help us achieve this, as well as improve and become more efficient everywhere at the STōK Cae Ras."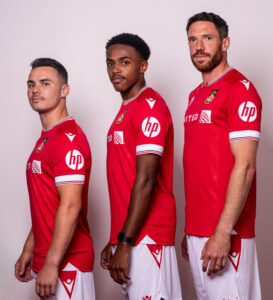 The HP logo will be featured on the matchday shirt sleeve from the start of the 2023-24 season, including the much anticipated 'USA Invasion' 2023 Summer tour – where Wrexham AFC will play teams including Chelsea, Manchester United and LA Galaxy, in North Carolina, California and Pennsylvania. Further details of HP and Wrexham's partnership will be released later in the year. Follow @Wrexham_AFC, @HP and visit www.wrexhamafc.co.uk for more info.
About Wrexham AFC
Wrexham Association Football Club is based in Wrexham, North Wales, and competes in League Two, the fourth tier of the English football league pyramid. Formed in 1864, they are the oldest club in Wales and the third oldest professional team in the world. Wrexham has won the Welsh Cup a record 23 times and beaten some of the biggest clubs in the game in the English FA Cup and UEFA European Cup Winners Cup. The STōK Cae Ras, home to Wrexham AFC, is the world's oldest international stadium that still continues to host international games.
Wrexham AFC is owned by Rob McElhenney and Ryan Reynolds. The goal of the new owners is to grow the team and establish Wrexham AFC as a Premier League club in front of increased attendances, and in an improved stadium, while making a positive difference to the wider community in Wrexham This goal is being pursued through four guiding principles: i) to protect the heritage of Wrexham AFC; ii) to reinforce the values of the community; iii) to use Rob and Ryan's resources to grow the exposure of the club at home and abroad; and iv) to create a winning culture. For more information, please visit wrexhamafc.co.uk.
About HP
HP Inc. (NYSE: HPQ) is a global technology leader and creator of solutions that enable people to bring their ideas to life and connect to the things that matter most. Operating in more than 170 countries, HP delivers a wide range of innovative and sustainable devices, services and subscriptions for personal computing, printing, 3D printing, hybrid work, gaming, and more. For more information, please visit: http://www.hp.com.