Tonsser, the app for aspiring young football players, launches in England and announces trials for undiscovered players with Southampton FC
What do Southampton FC's very own Sekou Mara and Erling Haaland have in common? No, it's not that they are playing at the top level of world football, or that they both got on the scoresheet in their recent Premier League clash at St. Mary's. It's that they both used the Tonsser app in their youth.
Tonsser, an app which helps young unsigned footballers get discovered and gain access to potentially career-changing opportunities launches in England today.
More than 1 million youth players in France and 1.6 million in total already have a profile on the Tonsser app. They use the platform to build their football identity, capture performances, compare and get access to trials and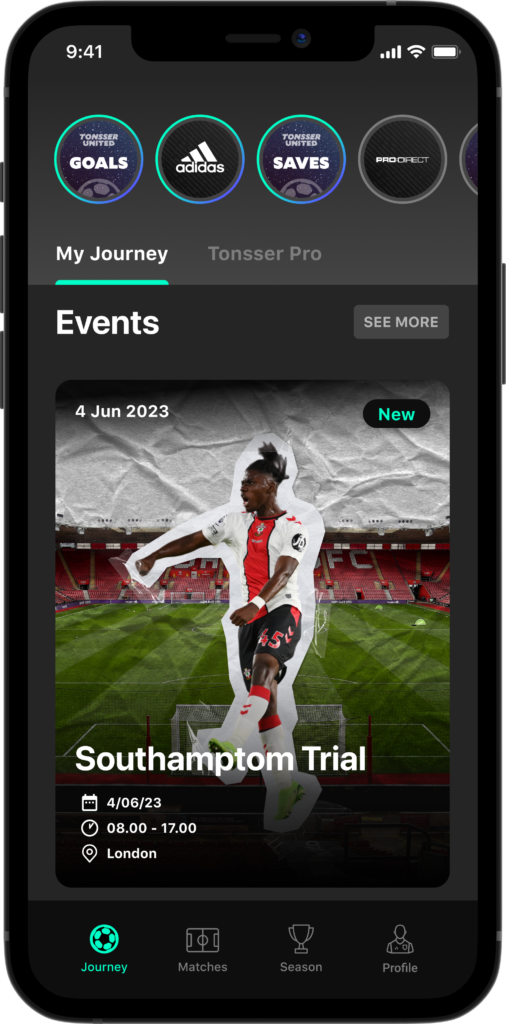 aspirational opportunities. Through performance data held in the app, unsigned players can qualify and be selected for different opportunities to showcase their potential in front of professional and semi-professional clubs.
Now, Tonsser is launching its popular player app in England and kicking it off with the trial event Tonsser Undiscovered x Southampton FC. The event will be a unique trial experience and opportunity where unsigned youth players can apply and be selected through their profile and performance data on the Tonsser app.
In Germany, Tonsser hosted a previous Tonsser Undiscovered event with FC Ingolstadt. Among the 75 players who attended the event was Merlin Röhl, a teenager playing for amateur club SV Babelsberg in the fourth level in the Berlin suburbs. At the event, he impressed the academy staff and signed with the club. Since then he went on to play for the academy teams, the 2. Bundesliga team and Germany U20 before being signed by Freiburg in August for €3 million at the age of 20.
With Tonsser Undiscovered, Southampton FC's goal is to provide those same opportunities in England for the unearthed players and overlooked talent, missed by traditional scouting methods.
Gareth Hamer, Local Recruitment Manager for Southampton Football Club said:
"Southampton Football Club is renowned for developing potential into excellence. As a club, we have always had a strong focus on youth development that has been built into our philosophy. We're excited to be working with a like-minded organisation in Tonsser, whose vision of empowering young players to unlock their potential matches our own. We look forward to working with Tonsser to unearth the hidden talent of the future and help players to reach their potential."
A first screening event will be held on the 8th May 2023 in London. Youth scouts from Southampton FC will attend to evaluate and select 32 players for the main trial day event on 4th of June 2023 at Staplewood, Southampton FC's training ground.
"Even with the club's advanced youth recruitment setup, there are still black boxes and uncovered territories allowing players to slip under the radar. Whether that is down to lack of performance data, opportunities for players, injuries, late blooming, cost of play or other adversities, we believe that talent development is not linear and an opportunity like Tonsser Undiscovered can be a cheat code for players to enter academy football, and a unique chance for clubs to identify and assess to players otherwise off their radar."
– Peter Holm, Co-founder of Tonsser.
As in France and other markets, Tonsser's purpose is to empower young English players to unlock their potential, while creating more transparency and opportunities in the ecosystem.
"Young footballers' passion and aspirations are unmatched. We have built a platform and community that answer these needs and tackle their challenges as they progress their journey. This includes providing a player universe that motivates, inspires and allows players to compare, while also creating access for aspirational players to take the next step, as we are doing now with our innovative collaboration with Southampton FC. Bringing high potential players and first-moving clubs closer via technology and data. "
– Peter Holm, Co-founder of Tonsser.
Sign up and download the app today to unlock your potential and get discovered at the Tonsser Undiscovered x Southampton FC event:
https://tonsser.app.link/SouthamptonUndiscovered