Launched in January 2020, Borussia Dortmund's English-language Instagram account (@BlackYellow) has gained over 1,000,000 followers, in the space of 10 months. The account is now the 4th-most followed Bundesliga club account on Instagram behind only Bayern Munich, Bayer Leverkusen, and Borussia Dortmund's German-language account. For every month that the account has existed, the account has had the highest monthly growth rate and engagement rate of any Bundesliga club account on the popular image sharing platform. On top of a rapidly increasing following, the account continues to have an incredible average monthly engagement rate of 25%. The strong growth and engagement on Instagram has come alongside similar success on Twitter for the club's English-language account, which has seen 23 consecutive months of the most monthly total engagements of any English-language Bundesliga club account.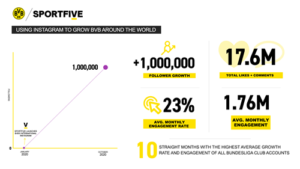 Global sports marketing agency SportFIVE oversee the running of @BlackYellow's social media accounts, and we spoke to Harry McIntire – Senior Manager, Digital – about their Instagram strategy which has allowed the account to hit the ground running, surpassing the one million follower mark in under a year. The strategy includes:
Culturally relevant content going beyond football
Geographically targeted paid media campaigns
Visually captivating graphic design
Quick and bold decision making when addressing trending topics with an emphasis on being the first account/club/team to speak to it
Engagement driven giveaway campaigns aimed at giving back to the fans and building a larger audience
Creating content that is relevant and interesting to the club's players to re-share with their large individual audiences
Focused use of Instagram's new features (Reels, IG Shopping etc.)
Local and global influencer campaigns to target new and existing demographics
Geographically targeted creative content that caters to different countries, religions, ethnicities, and cultures
Going beyond covering American "hours" to make sure the account truly caters to the club's international audience with around the clock coverage
With such a strong strategy in place, the @BlackYellow account is sure to continue the rapid growth in followers and engagement that has been apparent in the first 10 months since its inception. As the account's reach and audience increases, the Dortmund fanbase worldwide is growing day-by-day, cementing themselves as one of the world's top football clubs.