Stats Perform's approach to performance analysis combines video analysis with the use of advanced models and metrics powered by its Opta database to evaluate event data to develop an understanding of match events and assess team and player performances.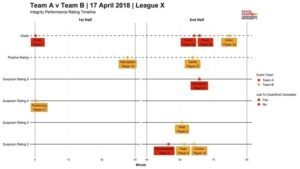 Now widespread in its application in both media and elite coaching, performance analysis has previously played a peripheral role for sport integrity purposes, with analysis lacking the necessary robustness for disciplinary proceedings. Stats Perform's access to the largest and most detailed database in sport, combined with a fact-based approach and transparent methodology, means analysis of events on the field of play in suspicious matches can now play a key role alongside betting monitoring and intelligence.
The service has already been used in several major projects and investigations, including the Council of Europe's Working Group on Performance Analysis in Sports Integrity, where Stats Perform's methodologies and analytical reports were singled out as a very good tool in the detection of match manipulation.
A number of federations and international governing bodies have already employed the service for use in match-fixing cases. In one case two football matches were referred to Stats Perform for analysis which had been highlighted as high risk due to suspicions around a pre-determined sporting fix between the two sides. The analysis revealed a demonstrably low lack of attacking intent from one team in the first match, including an historically low Expected Goals total and amongst the lowest pressing statistics in the entire Opta database. Other investigations have shown changes in formation by teams in specific periods of matches, as well as individual errors aligned with suspicious moves in betting markets.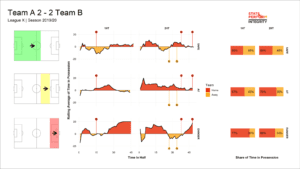 By combining detailed video analysis with comparisons to Opta's extensive database, Stats Perform's Integrity Unit, whose role is to work with rights holders, betting operators and sports integrity stakeholders discreetly and collaboratively to protect their sports against sources of corruption, was able to report strong suspicions over the integrity of the matches.
Jake Marsh, Global Head of Integrity, Stats Perform, commented: "As with every element of sport integrity, success is built on a unified combination of measures across prevention, detection and investigation. Sport governing bodies have been calling for professional performance analysis to support the fight against match-fixing and we have answered that call. This is an additional tool and deterrent in the fight against sporting corruption, and a new front in maintaining the integrity of sport."
Alex Rice, Chief Rights Officer, Stats Perform added: "Opta data is the most trusted, accurate and largest performance database in the industry. We've been using it in the media and elite team performance space for years but by switching the perspective, we're able to help answer questions about the integrity of a match using a professional approach and methodology."
Performance integrity analysis is available alongside Stats Perform's other integrity services including education, betting markets monitoring and intelligence, and investigations, all of which remain core functions in the battle against corruption in sport.
Underpinned by a robust process and methodology, Stats Perform Integrity utilises the deepest and highest quality Opta performance data along with a suite of bespoke in-house analytical tools to provide a deeper view of what has unfolded on the pitch and how this relates to the overall integrity of any given match.