POWA index provides a transparent view of the soccer market by analysing and incorporating data from social media, search engines, websites & apps, results, attendance & player data, news and fan interactions. These inputs create a POWA index score composition.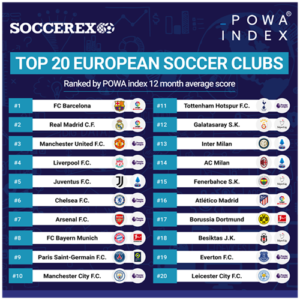 There are eight Premier League teams, which highlights the strength of this league globally, three from Spain's LaLiga, three from Italy's Serie A, three from Turkey's SuperLig, two from Germany's Bundesliga and just one from France's Ligue 1.
All twelve of the initially announced Super League founding members make the top 20, including eight in the top 10, with only Bayern Munich (8th) and PSG (9th) breaking that monopoly – both of these clubs reportedly turned down the opportunity to join the proposed Super League, however. The lowest ranking member of the dozen is Atletico Madrid (16th).
There are three Turkish teams, Galatasaray (12th), Fenerbahce (15th) and Besiktas (18th) all based in Istanbul, which equals London as the most represented city.
Everton (19th) and Leicester City (20th) are the only Premier League representatives not linked with the proposed Super League.
The extent of the strength of the Premier League across Europe will become ever apparent as the six initial English founding clubs became the first teams to drop out of the Super League.
At the time of writing, only four teams of the initial twelve founding clubs still remain – Barcelona, Real Madrid, Juventus and AC Milan, three of whom made the top 5 in our list.