The Portuguese Football Federation presents a new regional sponsorship agreement in India
AMUL, the leading dairy company in India, is now the new Regional Sponsor of the Portugal National team.
The Portuguese Football Federation and AMUL, the leading dairy company in India and the world, have signed a Regional Sponsorship Agreement until the end of 2023. AMUL thus becomes the First Indian Regional Sponsor in the history of the Portuguese Football Federation.
The Indian fans and consumers of dairy products in India will now be able to acquire original products of AMUL with the impression of the players of the Portugal National Team.
This partnership is the expression of the trajectory and international scope of the Portugal Football Federation, and of the importance and recognition of a historic brand, AMUL, with more than 75 years in the market. AMUL will thus be the ambassador company of the Indian community with the Portugal national team
Mr Jayen Mehta, (COO) Chief Operating Officer of AMUL, said: ""Amul is proud to announce its association with the Portugal Football Federation. Football is a global sport and has a huge fan-following in India too. Sports and nutrition go hand in hand and through this association we encourage the football fans of India to take up physical fitness and nutrition for a healthy lifestyle. Milk is the world's original energy drink and It's great to associate with an energetic and world class team like Portugal, who have some of the best of the footballers in the world like Ronaldo, Bruno and Bernardo and play a passionate game of football thus enthralling the fans.
We wish the team the very best in the upcoming World Cup as they play with energy and enthusiasm that resonates well with the vibrancy that Amul as a brand represents and we are looking forward to a great association over the next one year."…."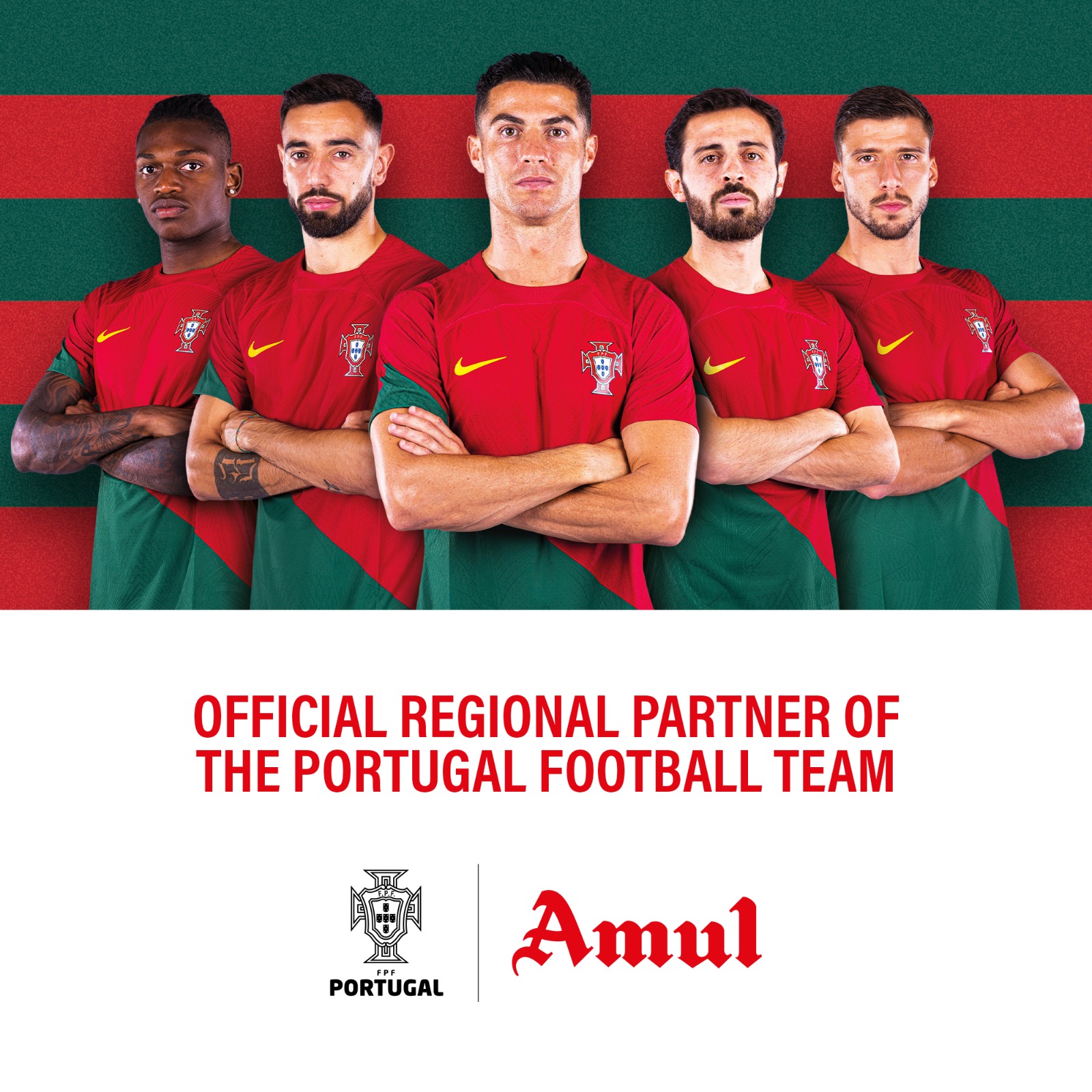 Nuno Moura, Chief Marketing Officer of FPF, said: "We are delighted to announce our first ever brand partnership in India with a leading and reputable brand such as Amul. Portugal and India have a historical and powerful connection dating back centuries, which allowed for the mutual exchange of knowledge in a diversity of areas as well as artistic and cultural influences. We are absolutely devoted to pursuing this pathway, now through football too, in a country that is very special to us, and which boasts millions of team Portugal fans. Portugal is India´s favourite team, immediately after the home team.
We hope that our team and players can inspire a new generation of young Indian footballers fulfilling their absolute potential, promote a healthy lifestyle powered by sports and nutrition, and continue to delight our millions of fans in India who, no matter the distance, are always supporting us. We are tremendously thankful to these fans for their unrelenting support to Portugal, and with the World Cup about to kick-off we will do our best to make them proud.":
ABOUT AMUL
Gujarat Cooperative Milk Marketing Federation (GCMMF), popularly known as Amul, is India's largest food product marketing organisation with an annual brand turnover of US$ 8 billion. It operates across India through a network of 79 sales offices, 10,000 dealers and over a million retailers, selling popular dairy products such as milk, milk powder, health beverages, cottage cheese, butter, ghee, ice cream etc. and is India's largest exporter of dairy products. It is one of India's most admired brands and known for its iconic marketing campaigns.
Official Site: http://www.amul.com/