New kit for Portugals' eFootball National Team
The Portuguese Football Federation (FPF) has revealed this Tuesday the new kit for its eFootball National Team.
Portugal is the first team ever to have an exclusive esports kit designed by Nike.
The kit of the reigning European eFootball Champions is dominated by patterns that allude to Portugal, combining urban and classic national art influences, with a predominant focus on a blue hue that remind us of the Atlantic coast and connects to the world of esports. It is a love letter to the vibrant and lively Portuguese eFootball community, at a time when the FPF eFootball division celebrates the 5-year milestone.
It's the first time that an exclusive eFootball kit is developed for a National Team and the European Champions debut it at the "Portugal Challenge", with Brasil, Spain and the Netherlands as the participating sides.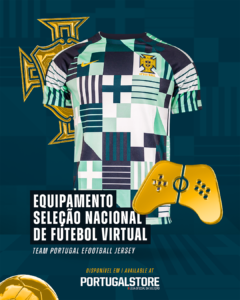 Nuno Moura, FPF´s Chief Marketing Officer highlights: "I'm extremely proud to see FPF eFootball recognized as one of the leading and most proficient esports organizations in the world.
Five years marked by wins, 200 competitions organized, over 350 clubs involved, 30 thousand athletes registered, over half a million casual players, international titles and all built with an amazing and supportive community that make it all worth it.
This kit celebrates the football esports community. We are thrilled to collaborate once more with Nike on the global stage, launching this pioneering kit exclusively for our eFootball national teams, where all the know-how and technological innovation of our north american partner was applied to advancing the Sport.
This kit that connects esports and culture will, without a shadow of doubt, inspire millions of girls and boys all over the world to not give up on their dreams, no matter the stage."
Nike's Senior Apparel Designer for Portugal stated: "We are extremely excited to celebrate Portugal's eFootball team with this special edition jersey – the design is rooted in Portuguese identity but showcased in a fresh and vibrant color palette highlighting the youthful energy and excitement of this world-class eFootball team."
A super limited number of units of the new kit will be available exclusively on Portugal Store, the official store of the National Team, starting today. All fans of Portugal and eFootball can now own a piece of global esports history.
PHOTOS (credits FPF)