FC Barcelona sign partnership with TP Vision to put Ambilight TV's name on the sleeve of the men's football team shirt
New agreement to appear on the kit for the first time when Barça host Mallorca at Spotify Camp Nou this weekend
FC Barcelona has expanded its family of Partners with the incorporation of TP Vision as its new Main Partner.
TP Vision is the company responsible for the design, manufacture and sale of Philips TV, Philips Sound and AOC Audio products and thus becomes part of the ecosystem of Club Partners as the Main Partner for TV, Display and Sound devices.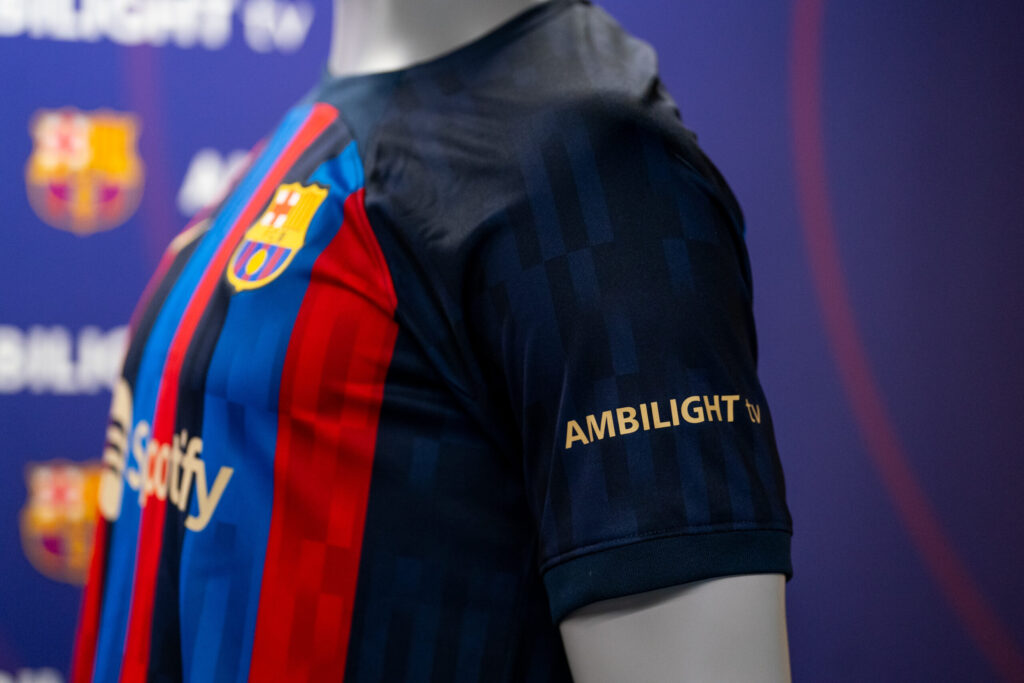 The deal will involve the Ambilight TV name appearing on the sleeve of the men's football shirt from the very next Liga fixture, in which Barça are at home to Mallorca, this weekend at Spotify Camp Nou.
The agreement was signed this Thursday in the Presidential box at the stadium, at an event attended by FC Barcelona President Joan Laporta, the Vice-president for the Marketing Area, Juli Guiu and Kostas Vouzas, CEO of TP Vision.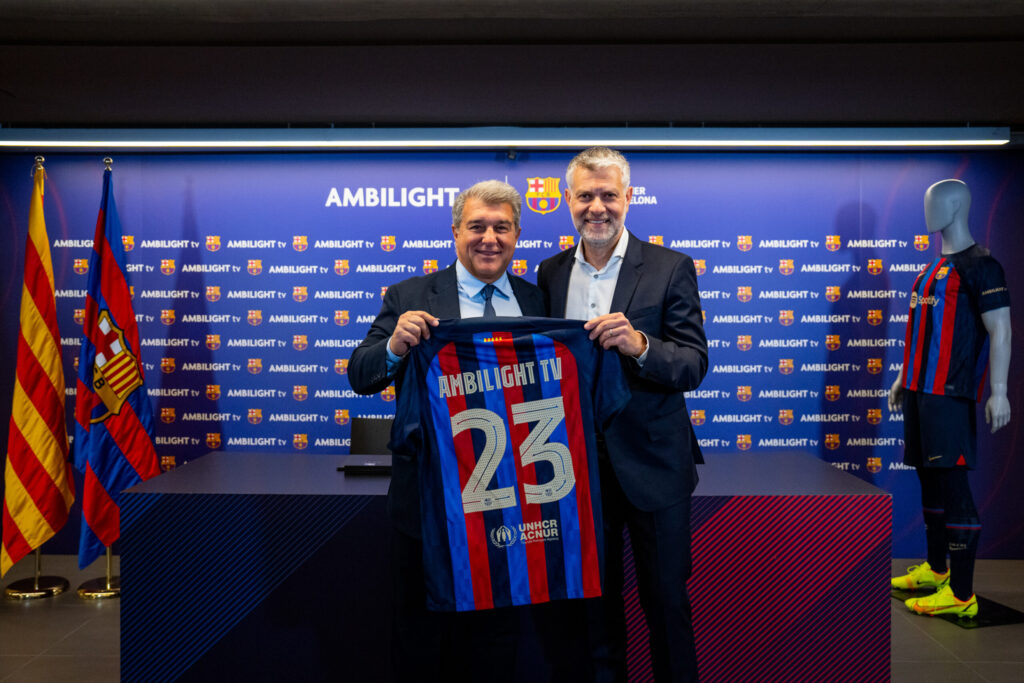 Supplier to the new Spotify Camp Nou
The agreement will boost the visibility of TP Vision's leading range of Philips television sets and audio products, and especially the company's own Ambilight TV technology, which is noted for its unique ability to turn traditional TV into an immersive viewing experience like no other.
This partnership grants TP Vision rights of association with the men's and women's first teams, as well as the Club's Indoor Sports teams. This multinational will also play an important role as a supplier of screens and digital signage solutions to the new Spotify Camp Nou, helping to also make it one of the most innovative stadiums in Europe in this area.
During this association, players from the men's and women's teams will be able to serve as ambassadors for the brand and experience first-hand the company's product range, and especially the unique Philips Ambilight TV.
Philips Ambilight TV, a touch of sophistication
One of the most distinctive features that makes Philips Ambilight televisions so different is an LED strip with different integrated colours, located along the rear edges of the device, which projects a constantly changing halo of light onto wall behind, and which is synchronised with the image on screen. Ambilight delivers a bigger and better TV picture that simulates an extension beyond the physical boundaries of the screen, as if it were floating, rather than fixed to the wall. This sophisticated detail works particularly well when watching sports like football.
The collaboration between TP Vision and FC Barcelona, which will need to be ratified at the next General Assembly of Delegate Members, is part of the strategy shared by both organisations to forge proactive partnerships with allies that share the same values and with the goal of projecting their brands towards new global audiences.
The 2023 Ambilight TV ranges will feature an improved version of the SMART Operating System, that will showcase a personalized interface for every user, and that includes hundreds of free linear channels monetized with advertising.
Statement by Juli Guiu, FC Barcelona vice-president for the Marketing Area:
"We are very proud to welcome TP Vision as a new Main Partner of FC Barcelona. Barça has always stood out for its committed quest for excellence, both on and off the field of play, and this agreement is another successful example of this because we are partnering with a world-leading company in the field of electronics and audiovisual technology. A giant step in FC Barcelona's commercial strategy in association with a multinational that, thanks to its Ambilight TV technology, has turned the match experience into a captivating and extremely satisfying journey for millions of fans who follow football from their homes."
Statement by Kostas Vouzas, CEO of TP Vision (Philips TV & Sound Europe & Americas):
"We are delighted to be able to partner with such a true global sporting icon as FC Barcelona. This new partnership is a natural fit as both our organizations seek to extend our offering far beyond the ordinary, each treating our fans to a unique experience, live and at home. Millions of consumers are already enjoying our unique Ambilight Televisions in their homes and as part of our strategy, this long-term partnership with FC Barcelona will elevate the fantastic Ambilight TV experience to the level it truly deserves."
About TP Vision:
TP Vision Europe B.V. is registered in the Netherlands, with its head office in Amsterdam. TP Vision is a wholly owned company of TPV Technology Limited ('TPV'), one of the world's leading monitor and TV manufacturers.
Founded in 2012, TP Vision is today one of the largest global players in the consumer TV and audio industries. It develops, manufactures and markets consumer electronics products and technologies that offer a superior audio and visual experience.
With a strong focus on the consumer and hospitality market, TP Vision's product portfolio includes consumer audio products and televisions, professional displays and content operation systems. These products, and solutions, are brought to market through TP Vision's own brand AOC, as well as the Philips brand, used under license from Koninklijke Philips N.V.
Home to leading electronic brands and award-winning products, TP Vision employs over 2,000 people globally, with operations in Europe, Americas, Middle East, India and selected countries in Asia-Pacific.
TP Vision adds value in everyday lives and society through its expertise in product development, design, operational excellence and responsible manufacturing.